Think WIDE(N) burglary prevention campaign launched
Our research shows two thirds (67%) of people are worried about their home being broken into, yet there are simple, proven measures we can all take to reduce our chances of becoming a victim of burglary by up to 50%.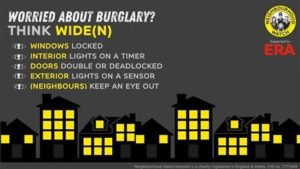 To help you be and feel safer at home, we are running our Think WIDE(N) burglary prevention campaign (1st-31st March), highlighting the simple, evidence-based WIDE measures which can be taken in any home on a variety of budgets.
At Neighbourhood Watch, we also believe neighbours keeping an eye out for each other is key to reducing burglary, so we've extended the WIDE acronym to WIDE(N):
• W: WINDOWS: Keep your windows locked
• I: INTERIOR: Put inside lights on a timer/smart bulb
• D: DOORS: Double or deadlock your doors
• E: EXTERIOR: Put outside lights on a sensor
• (N): NEIGHBOURS: Keep an eye out for your neighbours
To learn more about WIDE(N) and burglary prevention measures, visit ourwatch.org.uk/thinkwiden.
John Hayward-Cripps, CEO of Neighbourhood Watch Network, said 'It is not okay for two-thirds of people to fear being burgled. More needs to be done to help people be and feel safer, and when it comes to burglary, prevention is always better than cure. Since 1982 we have been supporting communities to feel and be safer. We know that by securing your home's windows, interior, doors, exterior and keeping an eye out for neighbours, we can all give ourselves the best chance of not being burgled. If you have been burgled recently, criminals are familiar with your home and may come back once you've had time to purchase new items. Act soon to avoid being retargeted – use the WIDE(N) advice for a combination of simple yet effective prevention measures.'
We have joined forces with our longstanding primary smart security partner, ERA Home Security, to bring their expertise to our Think WIDE(N) burglary prevention campaign. We are excited to invite you to some events this month:
• WEBINAR: WHAT DOES SMART SECURITY MEAN FOR MY HOME? 10th March, 5-6pm delivered in partnership with ERA – we will let you know when booking opens for this
• ASK THE EXPERTS DAY: 16th March on our Facebook / Twitter / Instagram channels – an opportunity to learn more and discuss burglary prevention live with ERA experts and Neighbourhood Watch
Member discount
In addition, as a thank you for your continued support of Neighbourhood Watch, ERA is offering a discount of 10% off all alarm kits using the code NHW2022. Click here to take advantage of this special offer. Take advantage of this offer by 31st March 2022.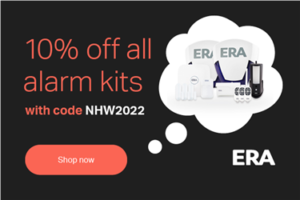 If you have any questions or feedback regarding the campaign, please email enquiries@ourwatch.org.uk.
Kind regards
NEIGHBOURHOOD WATCH NETWORK, Central Support Team
Follow us.. ourwatch.org.uk / Facebook / Twitter / Instagram / LinkedIn
Neighbourhood Watch Network is a charity registered in England & Wales, CIO no: 1173349
CELEBRATING 40 YEARS OF CREATING SAFER, CONNECTED AND ACTIVE COMMUNITIES
Message Sent By
Central Support Team
(NWN, Enquiries Dept, England and Wales)