'WHAT DOES SMART SECURITY MEAN FOR MY HOME?' FREE WEBINAR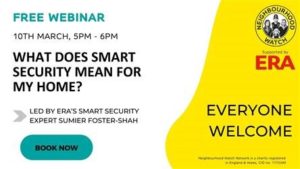 Join this virtual chat with a smart security expert from ERA, plus Q&A
Thursday 10th March, 5 – 6pm
Find out what smart security means for your home and how simple changes can vastly improve its security. During the webinar Neighbourhood Watch CEO, John Hayward-Cripps, and ERA's smart security expert, Sumier Foster-Shah, will discuss:
• available smart security solutions
• installation
• what to look for when choosing a smart security system
• and much more
Following the discussion, they will run a live Q&A session to answer all of your questions and concerns.
BOOK YOUR PLACE HERE*
*Maximum 500 places. Register early and sign in promptly on the day to guarantee your place.
Best wishes
NEIGHBOURHOOD WATCH NETWORK, Central Support Team
Follow us.. ourwatch.org.uk / Facebook / Twitter / Instagram / LinkedIn
Neighbourhood Watch Network is a charity registered in England & Wales, CIO no: 1173349
CELEBRATING 40 YEARS OF CREATING SAFER, CONNECTED AND ACTIVE COMMUNITIES
Message Sent By
Central Support Team
(NWN, Enquiries Dept, England and Wales)